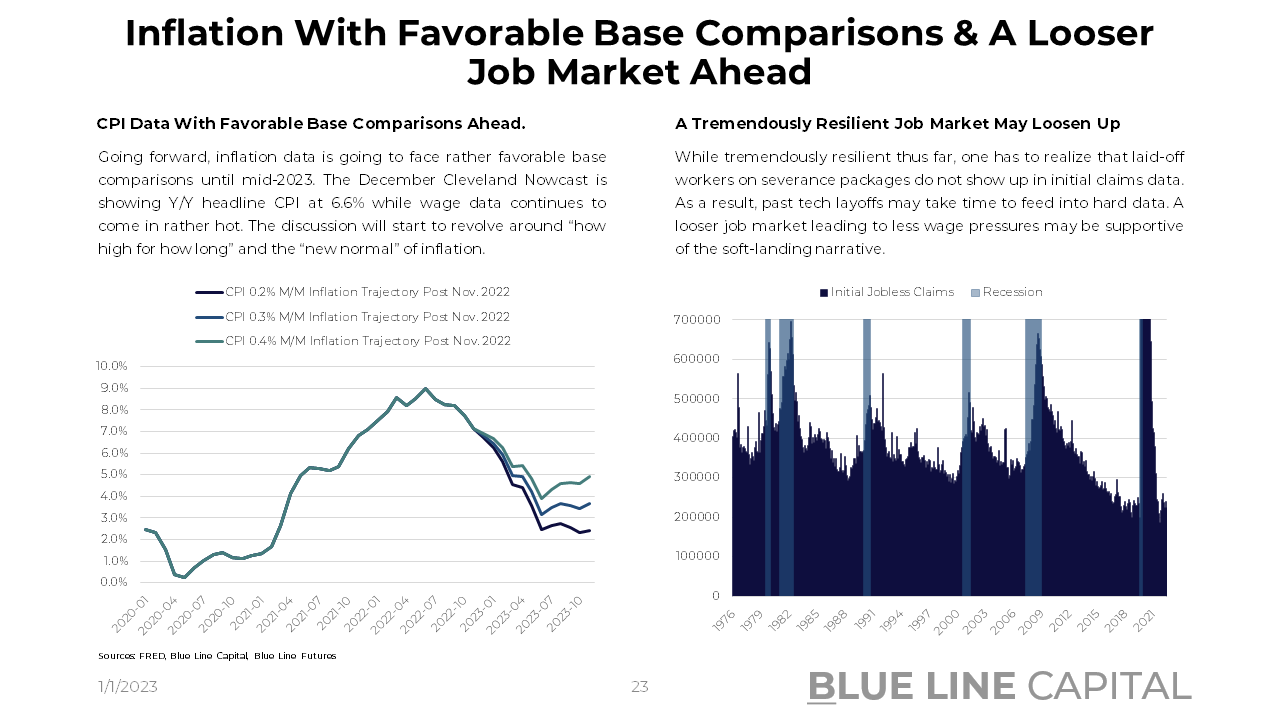 Risk Assets In The Context Of China Reopening & US Macro Data | Top Things to Watch this Week
Posted: Jan. 1, 2023, 12:58 p.m.
---
"Through endurance we conquer." - Ernest H. Shackleton
Chart Booklet
Access this week's chart booklet leading with in-depth corporate data on Nvidia, Energy Transfer, Chevron, and Rockwell Automation. We also share insights on the China reopening and U.S. macro data dynamics.

Stay tuned for podcast news in the pipeline!
China Reopening & U.S. Macro Data
China Reopening Commentary
First and foremost, Happy New Year! The team at Blue Line wishes you a prosperous, happy, and healthy 2023!
Reflecting on China's 2022, it was truly one for the history books. In the early days of Covid, China was largely seen as a playbook other countries could follow before China failed to implement a successful vaccination campaign and instead stuck to ever-more restrictive measures. Coupled with a refusal to let the virus run its course, Beijing saw business confidence get crushed. Amidst the country's pandemic response, the CCP and its leader Xi Jinping also decided to further crack down on technology companies and focus on the principle of "common prosperity". Moreover, Xi led a campaign based on the idea that "houses are for living, not speculation", which resulted in massive losses across the real estate sector. With developers like Evergrande at the forefront of the Chinese default cycle, the facade of a shiny economy slowly crumbled. To put the icing on the cake, China also became more focused on the internationalization of the RMB while challenging the U.S. as the global hegemon. Heading into 2023, Xi Jinping tried to cool the rhetoric at the G20 summit in Bali; rather than further escalating tensions, the focus appears to have shifted towards establishing guardrails for the geopolitical landscape in the years to come. As former Australian PM Kevin Rudd suggests: "I've always been much more worried about Xi Jinping's fourth term (late 2020s, early 2030s.)"
Thus, despite the ideological realignment of China's society and economy, 2023 may surprise on the upside compared against miserable comps of 2022. In light of a possible recovery, real estate remains a systemic problem of the economy and the knock-on effects will likely be felt for years to come. Coupling the reopening and therefore consumer spending with government spending may be positive in the short term, but long term problems aren't going anywhere.
In the context of China's reopening playbook, we are also watching global consumption of crude oil. The world consumed ~4m bbl/day below 1980-2019 trend in 2021, and likely stayed well below trend in 2022. Given a decade-long stretch of underinvestment, price risks to the upside will persist, especially if global travel fully returns in 2023. Check out all China graphs on slide 17-21 of today's chart booklet.

US Macro Data
It is undeniable that risk assets have faced a tough economic backdrop as most of the world's central banks have shifted policy from dovish to hawkish. In the fight against inflation, wages, energy, and fixed asset investment writ large are likely to be more persistent than central bankers would like to see. As a result, the neutral rate could have shifted north and therefore call for a more prolonged tightening cycle (higher for longer.) As a result, we are in for a regime shift where portfolio managers may have to reevaluate their portfolio choices from a very fundamental level. The risk free rate higher for the next 10 years? PMs and their analysts will put those vastly different assumptions into their models and come up with different sector and stock preferences. The deflationary impulse from China going away? Companies will either face lower margins, have to invest in different areas of the world, or pass along higher prices altogether; maybe a little bit of everything.
Against the idea that structural drivers are concerning, the current wave of inflation got ignited by supply chain bottlenecks coupled with transfer payments. As excess savings eat their way through this cycle and less demand meets more supply, prices should decline further and therefore lead to a relief. Combined with slack in the labor market as companies lay off more workers, the initial phase of 2023 may favor the soft landing camp on the margin.
Whether spending trends can remain strong will depend on real wage gains, the bargaining power of labor as layoffs pick up, and consumer psychology writ large. If inflation cools faster than wages, economic activity could be solid in the months to come.
Key to remember in that context, risk assets may find the macro backdrop rather favorable while financial assets may have to re-rate regardless amidst this sea change.
Since we got a 26 slide chart pack on the micro and macro landscape, I will leave it at that for today. The economy remains dynamic as peak-earnings, high margins, and elevated valuations may or may not stand the test of time. The more we know, the more we realize the importance of flexibility. As Mark Twain put it long ago: "It ain't what you don't know that gets you into trouble. It's what you know for sure that just ain't so."
Don't miss today's chart pack accessible here.
Enjoy the early days of 2023 and don't hesitate to reach out!
---
Until next time, good luck & good trading.
Be sure to check out prior writing of Top Things to Watch this Week:
Our Blue Line Futures Trade Desk is here to talk about positioning, idea and strategy generation, assisted accounts, and more! Don't miss our daily Research with actionable ideas (Click Here To Sign Up)

Schedule a Consultation or Open your free Futures Account today by clicking on the icon above or here. Email [email protected] or call 312-278-0500 with any questions!
Economic Calendar
U.S.
Data Release Times (C.T.)
China
Data Release Times (C.T.)
Eurozone
Data Release Times (C.T.)

More Of The Upcoming Economic Data Points Can Be Found Here.
Food for Thought
Blue Line Capital
If you have questions about any of the earnings reports, our wealth management arm, Blue Line Capital, is here to discuss! Email [email protected] or call 312-837-3944 with any questions! Visit Blue Line Capital's Website
---
Sign up for a 14-day, no-obligation free trial of our proprietary research with actionable ideas!
Free Trial Start Trading with Blue Line Futures Subscribe to our YouTube Channel
Email [email protected] or call 312-278-0500 with any questions -- our trade desk is here to help with anything on the board!

Futures trading involves substantial risk of loss and may not be suitable for all investors. Therefore, carefully consider whether such trading is suitable for you in light of your financial condition. Trading advice is based on information taken from trade and statistical services and other sources Blue Line Futures, LLC believes are reliable. We do not guarantee that such information is accurate or complete and it should not be relied upon as such. Trading advice reflects our good faith judgment at a specific time and is subject to change without notice. There is no guarantee that the advice we give will result in profitable trades. All trading decisions will be made by the account holder. Past performance is not necessarily indicative of future results.

Blue Line Futures is a member of NFA and is subject to NFA's regulatory oversight and examinations. However, you should be aware that the NFA does not have regulatory oversight authority over underlying or spot virtual currency products or transactions or virtual currency exchanges, custodians or markets. Therefore, carefully consider whether such trading is suitable for you considering your financial condition.

With Cyber-attacks on the rise, attacking firms in the healthcare, financial, energy and other state and global sectors, Blue Line Futures wants you to be safe! Blue Line Futures will never contact you via a third party application. Blue Line Futures employees use only firm authorized email addresses and phone numbers. If you are contacted by any person and want to confirm identity please reach out to us at [email protected] or call us at 312- 278-0500


CPI
China Data
Energy Transfer
Chevron
Rockwell Automation
NVIDIA
Jobless Claims
Like this post? Share it below:
Back to Insights