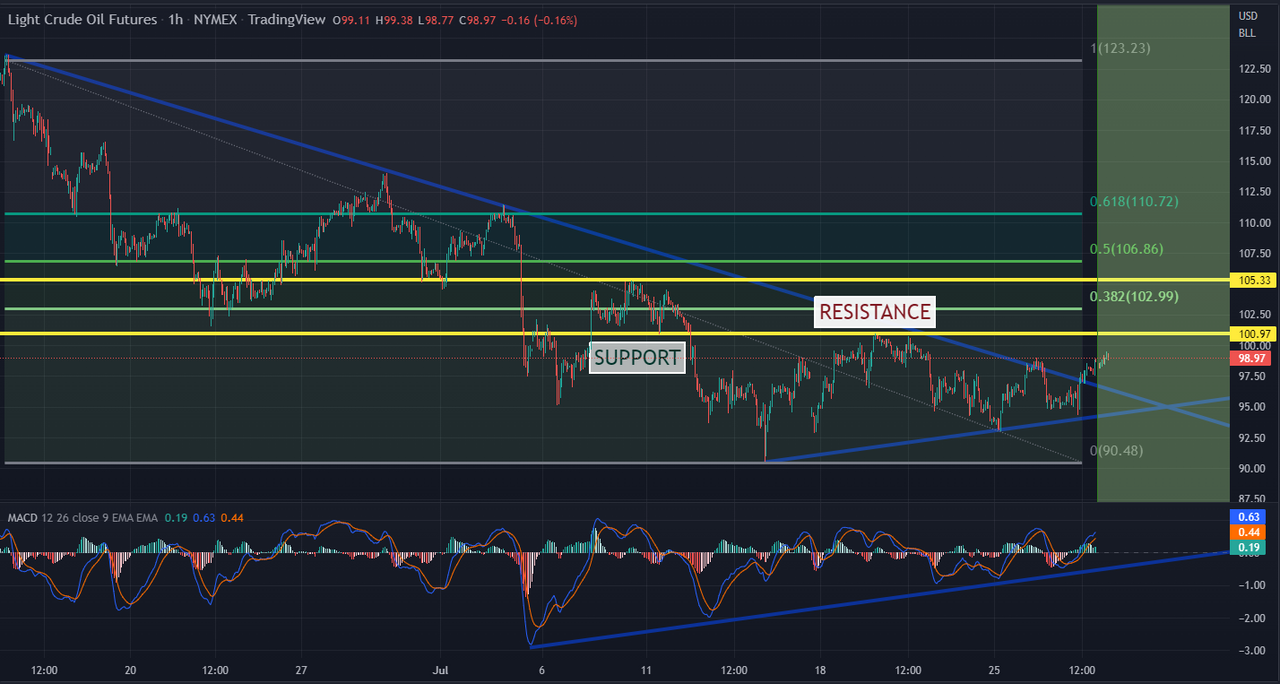 CME WTI Crude Oil Break Out After Fed Meeting? | MACD Education
Posted: July 28, 2022, 6:54 a.m.
---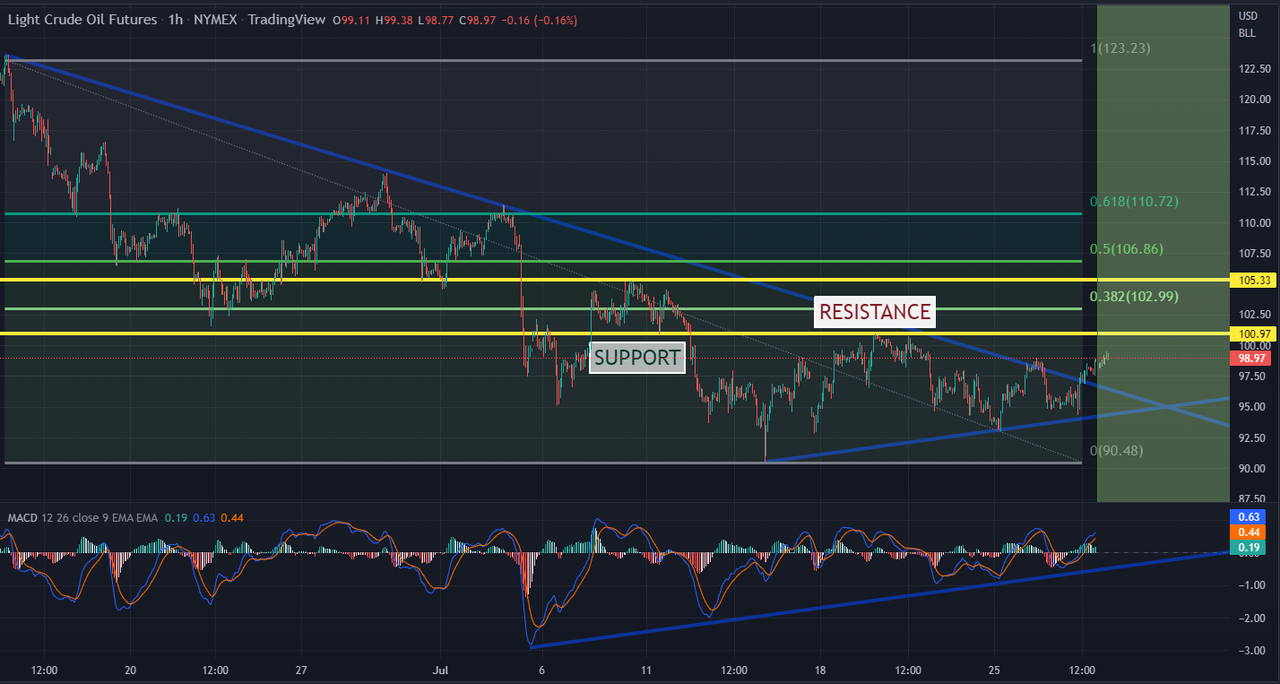 Crude Oil Futures saw a high (~$123.00) on June 14, 2022, and have been retreating ever since. I am not in the fashion of calling bottoms, but there has been some nice consolidation over the past 2 weeks! July 14th saw a recent low (~$90.50), and we have not tested that area yet! Here is what the charts are telling me:
1.
The downtrend line from that June 14 high is currently being tested as I type ($98.75)
If this downtrend line is broken with conviction, the next stop is ~$101.00. This level was SUPPORT (July 7-12).
This ~$101.00 SUPPORT level was broken and became RESISTANCE! CL tried to break this level on July 19, but couldn't do it.
Here is the thing though! After it tested the ~$101.00 level on the 19th, it did NOT make a new low! In fact it stopped at ~$93.00 (Low was ~$90.50)
Uptrends start with higher lows. We traded ~$99.00 yesterday, which coincides with that GIANT down trendline from a month ago. If we break these in the overnight session, ~$101 it is!.
2.
MACD has positive divergence. What does this mean? The MACD made a higher low, as the CME WTI futures traded lower. This basically means the downtrend is slowing down.
3.
Upside targets after ~$101 Are:
~$103.00 (.382 Fibonacci Retracement from ~$123.00 - $~99.50)
~$105.33 (RESISTANCE from July 8)
~$106.86 (50% Fibonacci Retracement )
~110.72 (2 factors here! .618 Fibonacci Retracement AND Resistance from July 4!)
This whole scenario is considered to fail if it breaks the up trendline formed from the low made on July 14, to the next higher low made on July 25 ~$93.00. CME Micro Futures are a great way to enter this positive risk/reward trade.
-Paul Wankmueller CMT
MACD Education:
Developed by Gerald Appel in the late 1970's
Useful in trending markets because it is unbounded
MACD Line = (12 period EMA - 26 period EMA )
Signal Line = 9 period EMA of MACD Line
MACD Histogram = MACD Line - Signal Line
Convergence occurs when the MA move towards each other.
Divergence occurs when the MA move away from each other.
Typically the 26 and 12 period EMA are used
Oscillates above and below 0
When MACD is positive, the shorter average is above the longer term average
Signals when it crosses from below to above the signal line
Histogram was developed by Thomas Aspray in 1986
Signals MACD above or below signal line.
---
Sign up for a 14-day, no-obligation free trial of our proprietary research with actionable ideas!
Free Trial Start Trading with Blue Line Futures Subscribe to our YouTube Channel
Email [email protected] or call 312-278-0500 with any questions -- our trade desk is here to help with anything on the board!

Futures trading involves substantial risk of loss and may not be suitable for all investors. Therefore, carefully consider whether such trading is suitable for you in light of your financial condition. Trading advice is based on information taken from trade and statistical services and other sources Blue Line Futures, LLC believes are reliable. We do not guarantee that such information is accurate or complete and it should not be relied upon as such. Trading advice reflects our good faith judgment at a specific time and is subject to change without notice. There is no guarantee that the advice we give will result in profitable trades. All trading decisions will be made by the account holder. Past performance is not necessarily indicative of future results.

Blue Line Futures is a member of NFA and is subject to NFA's regulatory oversight and examinations. However, you should be aware that the NFA does not have regulatory oversight authority over underlying or spot virtual currency products or transactions or virtual currency exchanges, custodians or markets. Therefore, carefully consider whether such trading is suitable for you considering your financial condition.

With Cyber-attacks on the rise, attacking firms in the healthcare, financial, energy and other state and global sectors, Blue Line Futures wants you to be safe! Blue Line Futures will never contact you via a third party application. Blue Line Futures employees use only firm authorized email addresses and phone numbers. If you are contacted by any person and want to confirm identity please reach out to us at [email protected] or call us at 312- 278-0500


Like this post? Share it below:
Back to Insights