Grain Express 9/15/22
Posted: Sept. 15, 2022, 7:58 a.m.
---

Rail Strike Averted
After roughly 20 hours of negotiations, Reuters is reporting that the U.S. railroads reached a tentative deal with workers, averting a strike, which would have likely added to the horrendous inflation problem. It's estimated that 30% of U.S. cargo shipments are by rail.
Weekly Export Sales
This summary is based on reports from exporters for the period September 2 – 8, 2022.
Corn: Net sales of 583,100 MT for 2022/2023
Soybeans: Net sales of 843,000 MT for 2022/2023
Wheat: Net sales of 217,300 metric tons (MT) for 2022/2023
Argentine Soybeans
It's being reported that China has secured 10 more cargoes of Argentine soybeans. Argentinas "soy dollar" has incentivized farmers to sell soybeans. This program allows farmers to convert earnings into currency at a better rate, meaning they receive roughly 30% more.

---
Corn
Corn futures are hovering near our pivot pocket from 682-685. As mentioned earlier this week, this was previously resistance and will now act as support. A failure here could trigger additional long liquidation, opening the door for a potential drop, 15-20 cents lower. On the flip side, resistance remains intact at 700.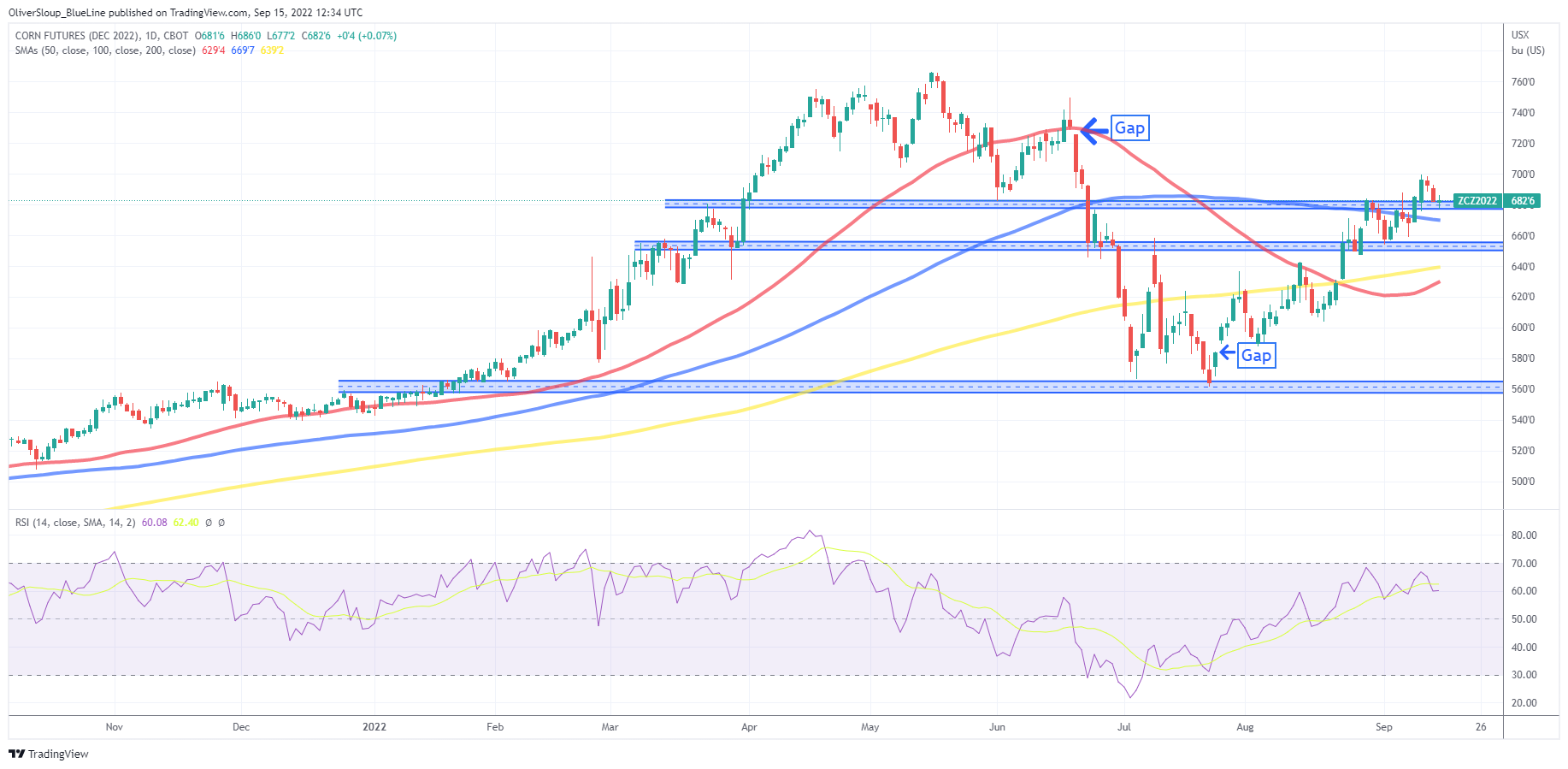 Technicals Premium
🔒 You need to be a Premium User to unlock this content. Click here to unlock.
Soybeans
November soybean futures are continuing to come off the highs from earlier in the week. The 50% retracement from the USDA report move 1446 1/4. Just above that is the 100-day moving average, 1450-2. A failure to defend this pocket could break the market back to the breakout point from Monday's USDA report. That breakout point comes in near 1410.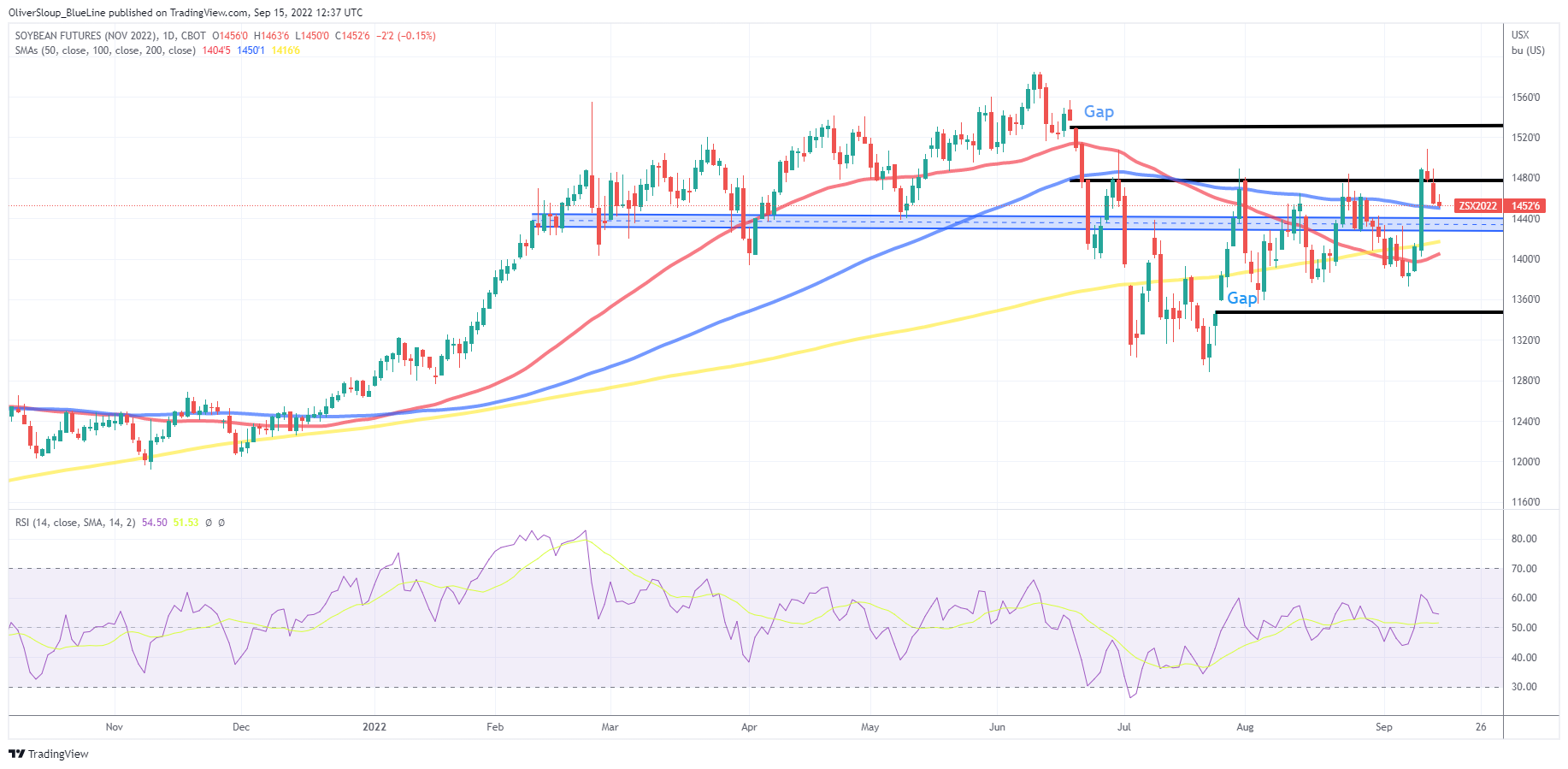 Technicals Premium
🔒 You need to be a Premium User to unlock this content. Click here to unlock.
Wheat
Chicago wheat futures have been consolidating this week, which is healthy and constructive to the chart following the big rally in the previous week. We believe that the Bulls have the technical advantage so long as they can defend our support pocket from 839-849, this was previously resistance. As far as resistance goes, there's not a lot of significant resistance until you get above the psychologically significant $9.00 handle. 909-913 represents previously important price points and the 200-day moving average.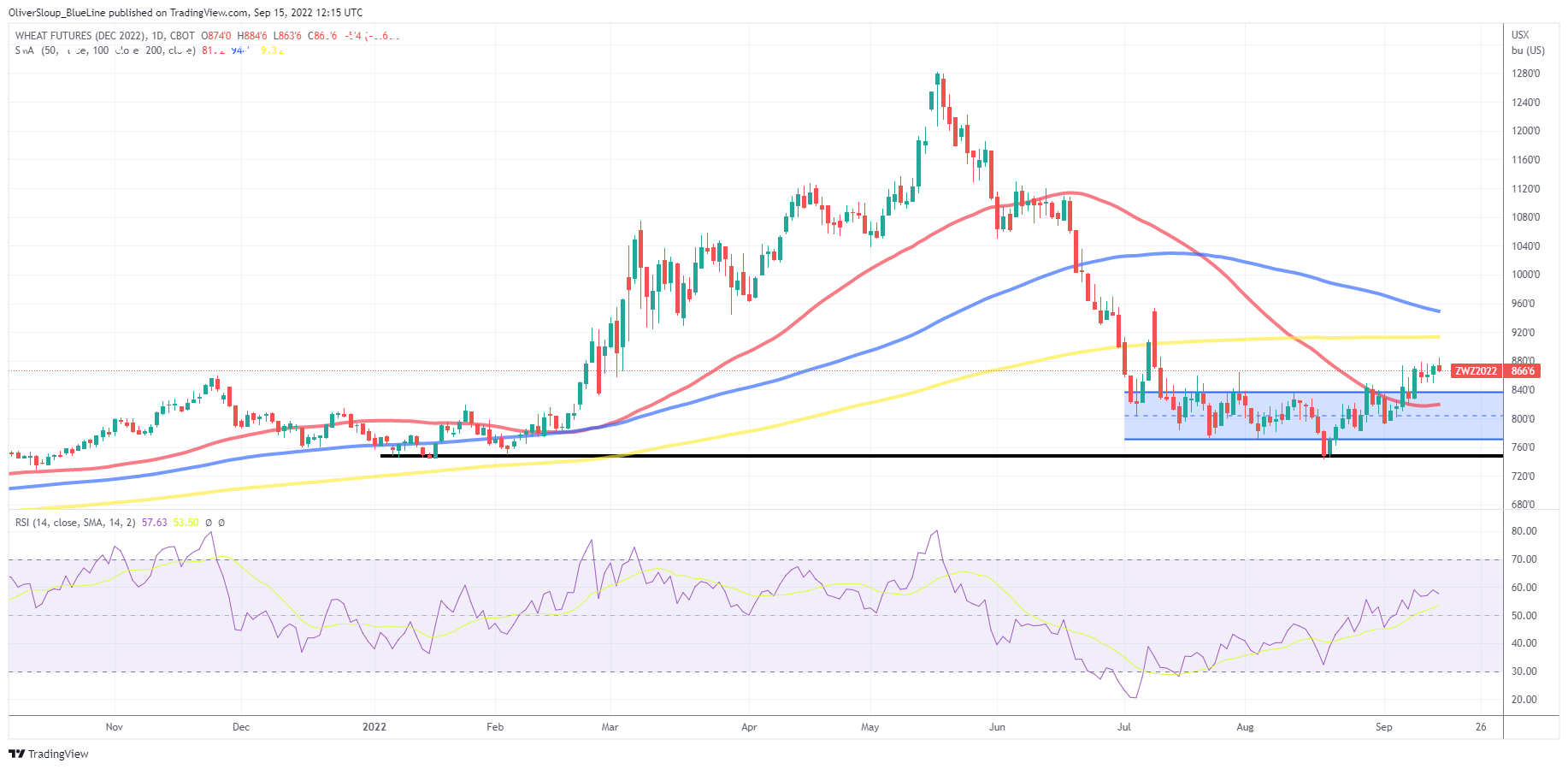 Technicals Premium
🔒 You need to be a Premium User to unlock this content. Click here to unlock.
---
First Two Weeks Free!
In case you haven't already, you can sign up for a complimentary 2-week trial of our complete research packet, Blue Line Express.
Sign up for a Free Trial
Don't have an account with Blue Line Futures?
If you have any questions about markets, trading, or opening an account please let us know! You can email us at
[email protected]
or call
312-278-0500
.
Futures trading involves a substantial risk of loss and may not be suitable for all investors. Trading advice is based on information taken from trade and statistical services and other sources Blue Line Futures, LLC believes are reliable. We do not guarantee that such information is accurate or complete and it should not be relied upon as such. Trading advice reflects our good faith judgment at a specific time and is subject to change without notice. There is no guarantee that the advice we give will result in profitable trades. All trading decisions will be made by the account holder. Past performance is not necessarily indicative of future results.
Grains
Soybeans
Corn
Wheat
Like this post? Share it below:
Back to Insights